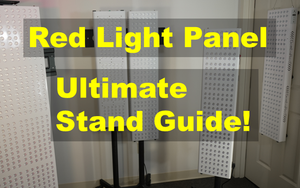 DIY Red Light Therapy Panel Wheeled Upright Stand Guide
Most red light therapy full-body panels come with door-hanging accessories to set them up in the home.
Hanging red light panels on doors is what made them such a viral "hack" for getting affordable full-body red light therapy. It is cheap, simple to set up, and can get you doing full-body red light therapy in just minutes.
However, we often notice that doors aren't always the best place to hang a red light therapy panel. Sometimes there aren't any convenient doors to put it on, the outlet isn't nearby, the cord causes a trip hazard, or the panel can flop around on a door especially if it is a high-traffic area.
An alternative would be to mount a hook or bracket to the wall, then hang the red light panel from the wall. This is a simple task that can be done by a handy-person. However, not everyone likes to drill holes in their walls.
Naturally we have seen a big demand for wheeled floor stands for red light panels. Some companies have made cheap and affordable brackets that sit on the floor, but then they portray consumers sitting or laying on the floor in front of them.
Large wheeled stands have become available but they often cost around $300 from most of the major brands. Even if you can source a red light therapy stand from Alibaba, the cost of shipping is very high because of the sheer size of the package.
However, upon looking closely at the stands being offered by many brands, they appear to be simply re-purposed TV Stands. These are easily obtainable on Amazon and other online retailers at very low prices.
The biggest downside to using a wheeled stand like we will show is that they take up a lot more space! The base of the stands are usually around 3 feet wide and 2.5 feet deep - and also can be a trip hazard if not placed out of the way.
We tested over a dozen TV stands and are recommending just a few of the best ones. The TV Stand kits come with large baggie of different sized screws which are compatible for a range of different TVs, but also that is what makes them adaptable to most LED Panels.
Stands for GembaRed Products:
We didn't want to charge high prices for stands, or deal with the logistics and let stands take up our precious inventory space. So we found some stands on Amazon that are compatible with our panels, but also will work with many other panels on the market!
Stand for GembaRed OverClocked Panel:
The GembaRed OverClocked panel is a very practical size at about 42 inches tall by 9 inches wide. This is a great size for covering most of the body without being overly bulky or heavy.
We found the perfect compliment to the Overclocked Panel is the following stand from Amazon. It is a sturdy heavyweight stand, but isn't as much of an eyesore as many of the bulky stands offered by our competitors.
Amazon Basics TV Trolley for 24 - 43'' TVs with Swivel Feature, Black
Just assemble the stand as the instructions tell you to, then the only difference is that instead of mounting to a TV, the mounting bracket gets attached to the back of the panel.
We use the smallest screws that were provided in the kit, and bolted it right to the back of the panel with the provided washers. That is it, the only tool needed is a screwdriver!
The only downside to this particular stand is that it is limited by the height it can go up to. At the fullest height the OverClocked Panel reaches just over 5 feet from the floor, which is fine even for me at 6 foot tall and covering most of my torso and providing indirect light therapy to my eyes and face.
If you are much taller, then you might need one of the other stands mentioned below that can reach higher.
Like we mentioned these TV stands are Universal! So the kit comes with many different screws and mounting holes which could work for other red light panels you can find too.
Stand for GembaRed Reboot Body-Light Panel:
The GembaRed Reboot panel, like many 1st generation body-lights, does not have mounting holes on the back for a TV bracket. So generally the Reboot panel works best if you are planning to mount it on the door or on a wall.
If you are planning using a GembaRed body-light with a stand, then we recommend getting the OverClocked panel instead.
However, there is a way to "MacGyver" the GembaRed Reboot to hang it on a TV stand.
Mobile TV Cart with Wheels for 32-85 Inch Flat Curved Screen TVs
https://www.amazon.com/gp/product/B07FXMX241/
For this stand you assemble it normally, and then for the Reboot panel you need to remove some of the screws from the back of the frame, or remove the back bumper. Then use those same screws to attach the mounting bracket.
You will need Metric M2 Allen Wrench (Hex head) screwdriver to remove the screw. Then fitting the screw back in can be tricky.
We recommend also getting new screws with slightly longer length than comes with the Reboot, and some washers to match. This way it can secure the Reboot to the bracket easier.
Here is the list of recommended tools:
2.5mm Allen Key - https://www.mcmaster.com/6958A12/
M3 Screws - https://www.mcmaster.com/97763A421/
Oversized Washers for the M3 Screw - https://www.mcmaster.com/98040A101/
2.0mm Allen Key for the new M3 screw - https://www.mcmaster.com/6958A11/
This makes the Reboot mounting not as easy as the Overclocked or other new-generation panels, but it is possible!
Stands for Oversized Red Light Therapy Panels:
Some companies can sell large oversized panels, and this is where a heavy duty TV stand becomes very useful.
For example, these big stands are perfect for our new oversized GembaRed BFP 9000 full body panel!
Here are a few that we tested. Even these TV Stands they all seem nearly identical with different brands and packaging - similar to all of the rebranded panels we see in the red light therapy industry.
Mount Factory Rolling TV Cart Mobile TV Stand for 40-65 inch Flat Screen, LED, LCD, OLED, Plasma, Curved TV's - Universal Mount with Wheels
https://www.amazon.com/gp/product/B00RH46N6M/
NB North Bayou Mobile TV Cart Rooling TV Stand with Wheels for 32 to 70 Inch LCD LED OLED Plasma Flat Panel Screens up to 100lbs AVA1500-60-1P (Black)
https://www.amazon.com/gp/product/B00GQLLCTA/
These heavy-duty stands appear to be the exact same types being resold by red light panel brands for almost $300, as it is also helpful to use a heavy-duty stand for modular panel setups.
Best DIY Stand for Multiple Panels:
Here is a hack to hang multiple panels on a single stand. Especially if you have a variety of different panels from different manufacturers.
This setup seems to be the best for the widest variety of different brands of panels we have tested it on.
Start with the PERLESMITH wheeled stand that we referenced earlier for the Reboot panel.
Mobile TV Cart with Wheels for 32-85 Inch Flat Curved Screen TVs PSTVMC01
That kit only comes with one set of mounting brackets. So if we wanted to mount more panels, we don't want to buy more of the full-sized kit.
We tested a lot of different smaller kits just to find ones with brackets that would be compatible with that stand. Here are the 3 that fit, in order of lowest price at the top.
PERLESMITH Swivel Universal TV Stand / Base - Table Top TV Stand PSTVS09
https://www.amazon.com/dp/B07TK2KWVJ
TAVR Universal Swivel TV Stand Base Tabletop TV Stand
https://www.amazon.com/TAVR-Universal-Adjustable-400x400mm-UT1002X/dp/B07CGK9TN5/
PERLESMITH Universal TV Stand Table Top TV Base PSTVS11
https://www.amazon.com/dp/B07XLMQ39D
Here we can mount both a GembaRed Reboot Panel (left) and GembaRed Overclocked panel on the same stand!
This unfortunately means the rest of the stand kit goes unused. But even to get the stand and 1 of these kits to mount an extra panel, then you are still spending less than $300 on the whole setup.
End of Guide! Hope that helps everyone. Check out our YouTube video to see some of the stands in action!
---