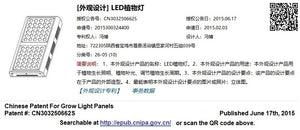 Who Invented the Red Light Panel? - Our Response to Joovv's Patent Threats
Not too long ago, GembaRed LLC (GembaRed) received a letter from Joovv, Inc. (Joovv) alleging that the GembaRed Oomph Body-Light was potentially infringing on their pending patent on what I refer to as "hanging body-light" red light panels. They even threatened to sue for damages if we continued to sell them. This was startling, confusing, and scary for me – and as a result, I proceeded to liquidate my remaining GembaRed Oomph Body-Light panels and halt manufacturing.
As an ethical company, GembaRed has conducted a thorough investigation of these patent allegations.

Of course, anyone can see that Joovv's patent is still in the "pending" status. Add to it, the patent has already been rejected once by the United States Patent and Trademark Office (USPTO). So, their entire threat has no basis since it cannot be legally enforced until the patent is approved, and it is apparent that the USPTO has already rejected many of the claims.

Already we knew this threat was mostly hollow. But just how deep does this false threat really go? We had our lawyers take a closer look...
Our lawyers revealed that Joovv's patent application is unenforceable now and for the foreseeable future. The most damning revelation is that our lawyer tells us that Joovv's lawyer intentionally withheld 'prior art' that should have been submitted with their patent application. This 'prior art' was material to their application and might have proved that their invention was not novel. The mere act of not disclosing the 'prior art' would render the patent unenforceable, if ever issued. This is very disturbing to me in regards to Joovv and their lawyer's diligence and ethics.

Our lawyer has written the following response to Joovv. Our lawyer is also sending a letter directly to the United States Patent Office with additional examples of patents and prior art. This will hopefully help the USPTO continue to reject Joovv's patent.
The good news is that our lawyer has approved us to reboot the GembaRed Body-Lights! Stay tuned as we restart production!
For the benefit of the entire Red Light Therapy industry, please read the response letter below. We hope that our efforts will prevent future patent abuse and bullying in this industry. We want Red Light Therapy to be available to everyone, and protecting the intellectual property for everyone to access it is an important part of GembaRed's mission.
Thank you for your continued support of GembaRed and for taking the time to read this letter!
---